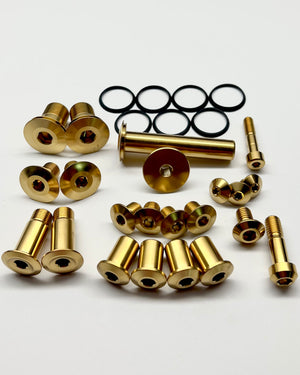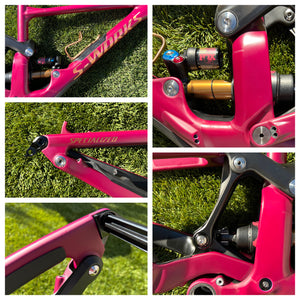 Product image 1

Product image 2

Product image 3
Product image 4
Titanium Specialized Enduro Frame Hardware Kit 2020+
Lifetime Warranty
29 individual pieces (22 bolts and 7 rubber washers)
Fitment:
2022 COMP CARBON
2022 EXPERT
2022 SW
2021 COMP CARBON
2021 EXPERT
2021 SW
2020 COMP CARBON
2020 ELITE CARBON
2020 EXPERT CARBON
2020 SW CARBON
This kit is not lighter than stock aluminum bolts it is designed for on trail performance, durability, maintenance, a lifetime warranty, and rust free metallic properties. 
Follow your owners manual install guide for torque settings. Apply grease to shafts and back of heads and blue loctite 242 to the threads. Antiseize or grease on frame protection bolt threads.
External link to owners manual: Enduro manual
Already purchase our middle and upper link kit? Email support@betterbolts.com to purchase a kit excluded those bolts at a discount. 
Kit Contains:
AA - Main Pivot Bolt

BB - Main Pivot Wedge

CC - Upper Link @ Seat Tube Bolt (2 included)

DD - Mid Link @ Lower Pivot Axle 

EE - Mid Link @ Lower Pivot Bolt

JJ GG - Linkage Inner (4 included)

KK HH - Linkage Outer (4 included)

II - Dropout Horse Link Bolt (2 included)

NN - Rear Shock Eye Bolt

OO - Forward Shock Eye Bolt (2 included)

Frame Protection Mounting Bolt (3 included)

Rubber washers (7 included, 6 needed)